| | |
| --- | --- |
| Client | Gemeinde Rapperswil; Gemeinde Jona |
| General contractor | Unirenova AG |
| Architecture | ffbk Architekten AG |
| Planning | 2002-2005 |
| Realization | 2005-2006 |
| Status | Built |
The indoor ice rink in Rapperswil from 1987 no longer met the present-day and future requirements for a modern and attractive sports facility. The operating body responsible for the indoor skating rink, the Lido Skating Rink Association, wanted to renovate, expand, and improve the overall quality of the hall at the current location. The maximum spectator capacity of the renovated hall was to remain unchanged at around six thousand people, but with less standing room capacity and more seats.
The basic structural concept for the extension to the grandstand and the roof was to completely reuse the existing steel structure. The necessary longer span was achieved with a two-sided extension and reinforcement of the main trusses. To accomplish this, the roof structure was raised to a higher position by using tension strands and prestressing jacks, and then set down on new foundations outside the existing hall, in alignment with the new facade. The procedure of lifting the existing roof structure was carried out in a compact sequence of work: extend the existing trusses and steel columns – raise the roof to the desired height with hydraulic presses and tie rods – relocate the extended roof onto the new columns. Lastly, the old columns were removed and the new tension-rod trussing was attached.
Due to the larger span length of 63.25 meters – before the renovation it was 50.5 meters – the trusses had to be reinforced. The buckling strength of the upper chord was increased in places, and on the tension side of the truss, simply installed polygonal tension-rod trussing was attached. With the induced deviation forces, the deflections could be easily inhibited. With the chosen cable geometry, the shear forces remained the same or even decreased slightly, so that reinforcement of the diagonals was not necessary.
The existing roof structure was completely integrated into the new roof structure, whereby the roof loads are sustained by a new pile foundation outside of the existing building. Thus, the existing piles were relieved and as a consequence, they could bear the additional loads of the enlarged grandstand. Moreover, that simplified and shortened the construction process – making the new foundations and carrying out all the preparatory work for the extension of the trusses could be done outside the building during ongoing operations.
The cantilevered extension (VIP level and technical floor) is supported by steel trusses at spacing of six meters. The spacing of these trusses is aligned with the axes of the existing load-bearing structure. The trusses are on the technical floor and each rest on three columns. The tensile forces resulting from the cantilever are overridden by the loads from the roof structure. Horizontal bracing is provided by the floor slabs and through four vertical steel trusses.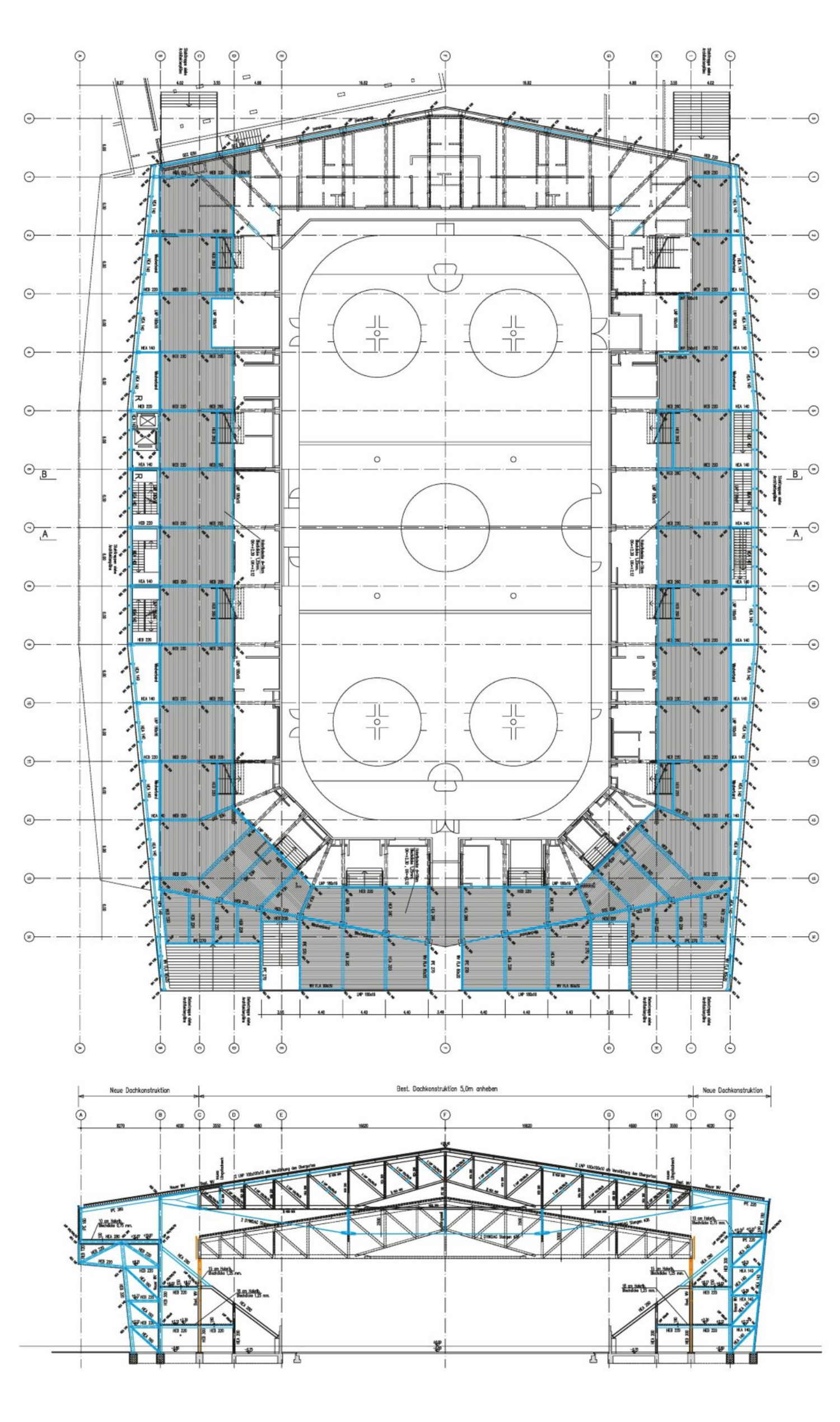 Hallengrundriss mit der Erweiterung der Tribünenanlage (oben); Schnitt durch die Halle mit der Erweiterung der Tribünenanlage, der Verlängerung der Fachwerkbinder und der Unterspannung (unten) Schnetzer Puskas Ingenieure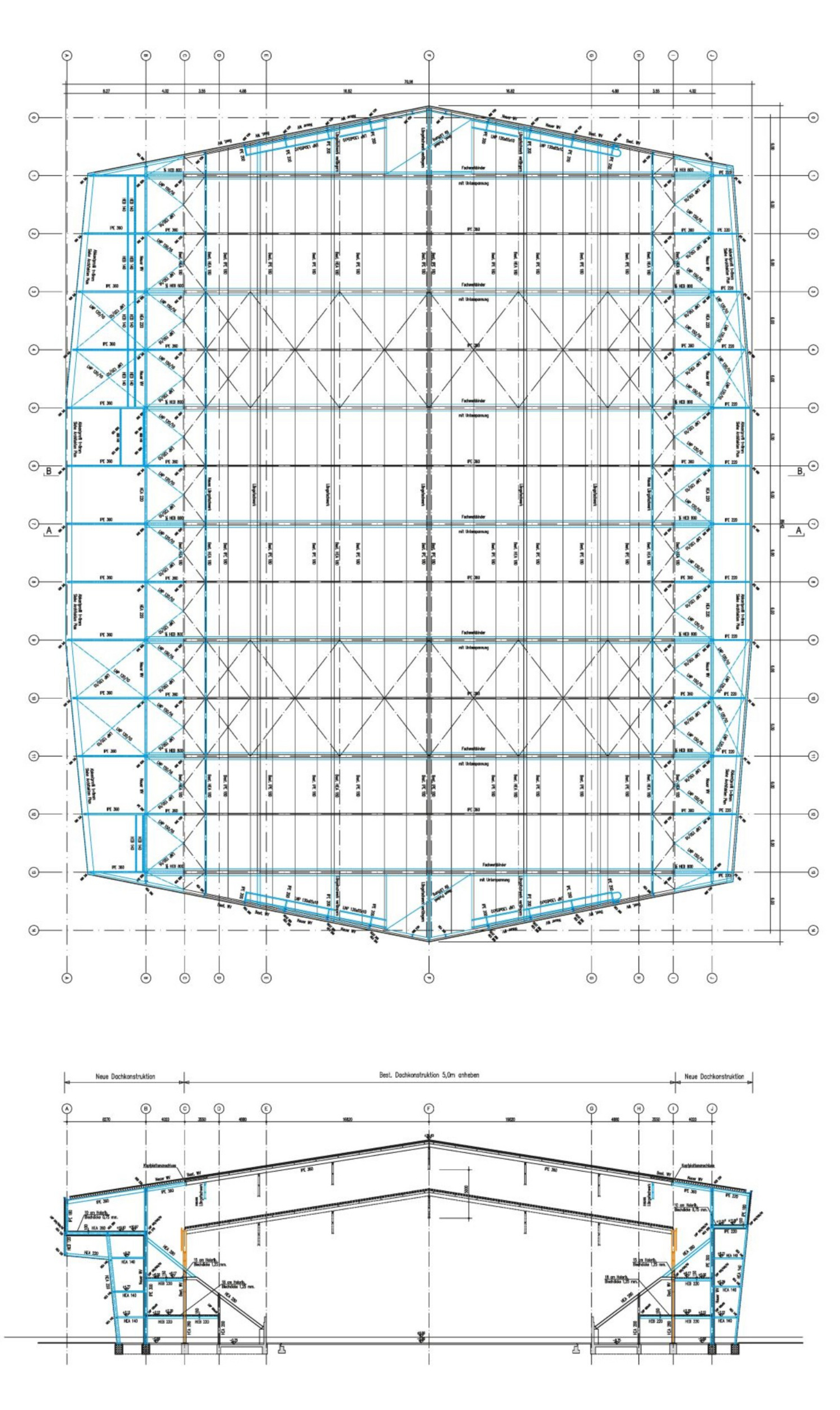 Dachgrundriss mit den Verstärkungen und der Erweiterung (oben); Schnitt durch die Halle mit der Erweiterung der Tribünenanlage und der Dachkonstruktion (unten) Schnetzer Puskas Ingenieure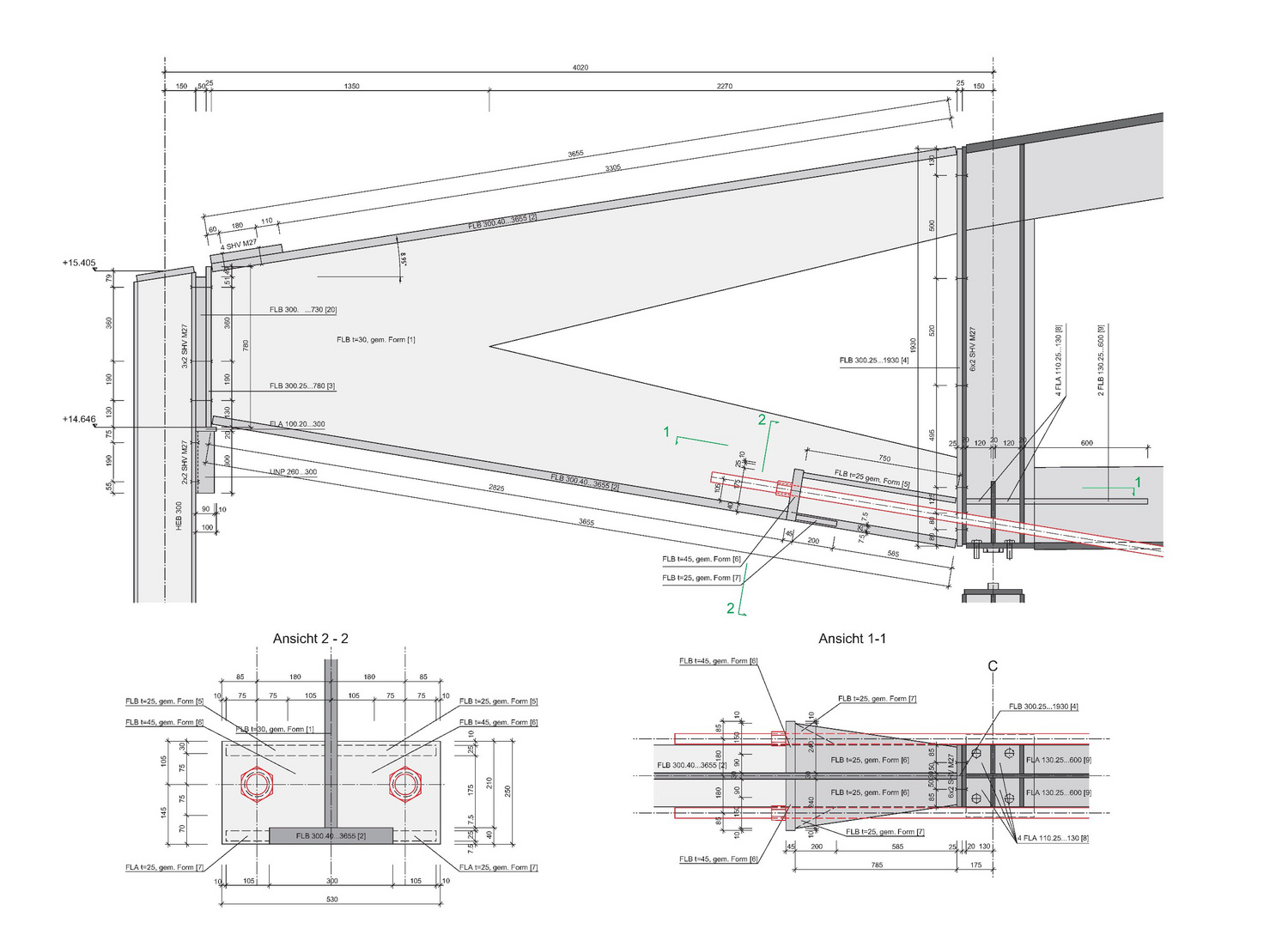 Verlängerung der Fachwerkbinder mit Auflagerdetail und Verankerungsdetail der Unterspannung Schnetzer Puskas Ingenieure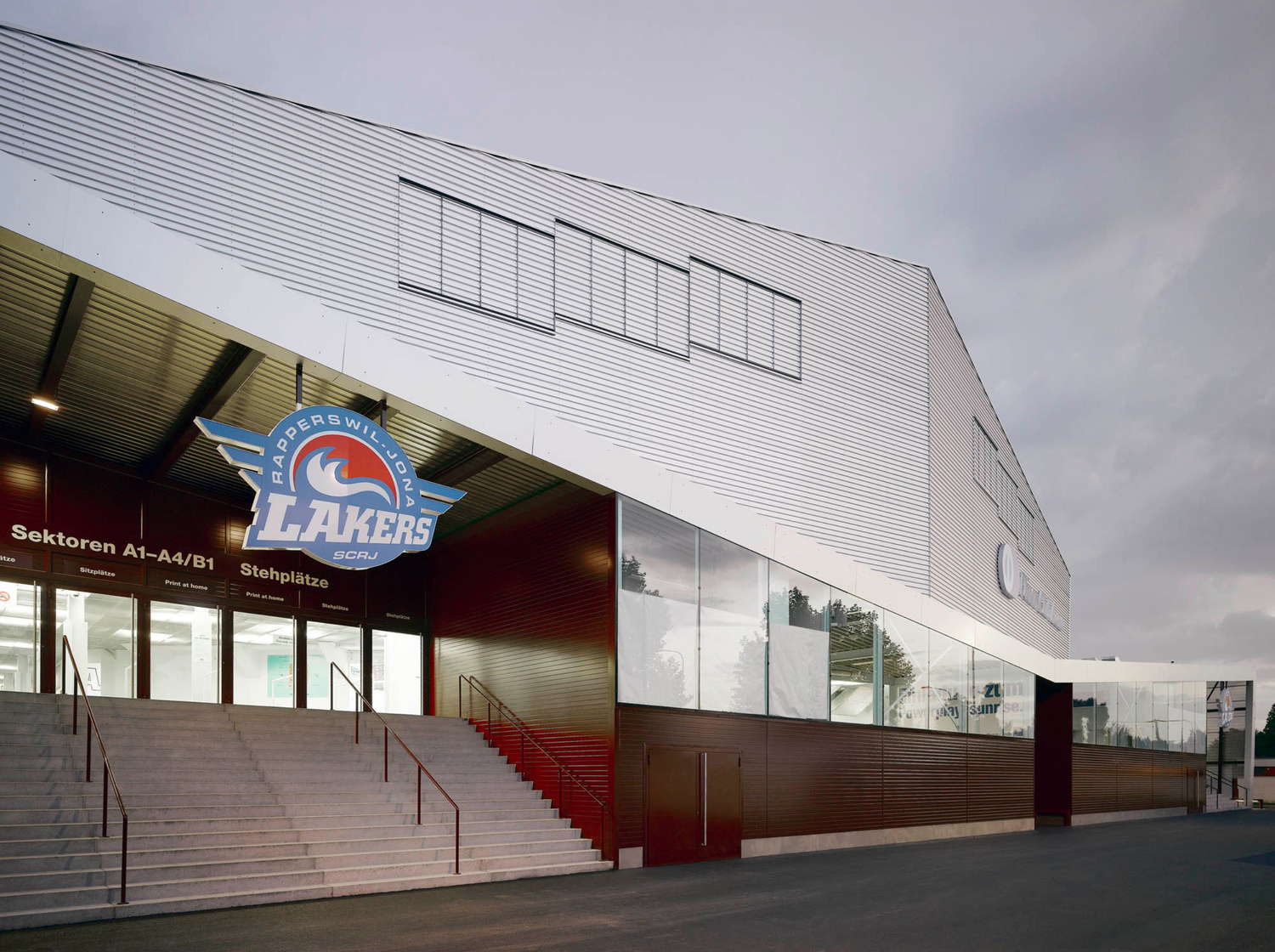 Johannes Marburg
| | |
| --- | --- |
| Client | Gemeinde Rapperswil; Gemeinde Jona |
| General contractor | Unirenova AG |
| Architecture | ffbk Architekten AG |
| Planning | 2002-2005 |
| Realization | 2005-2006 |
| Status | Built |