| | |
| --- | --- |
| Client | Bau- und Verkehrsdepartement Basel-Stadt |
| Architecture | ARGE Degelo Architekten / Berrel Berrel Kräutler Architekten |
| Planning | 2013-2015 |
| Realization | 2015-2018 |
| Status | Built |
St. Jakobshalle was opened in 1976 and is part of the large sport center in the south-east of the city of Basel. Immediately next to the hall are the football stadium of St. Jakob-Park, the St. Jakob ice hockey arena and the St. Jakob sports center. With the renovation and modernization project, the hall appears as a public facility with the north foyer as a new inviting entrance. St. Jakobshalle thus becomes an address, and meets the diverse future operational and use-specific requirements. At the same time, the foyer gets a story-high overhanging roof, which is used as an additional floor and houses the extensive in-house utility installations and is also used as a storage area. The renovation and modernization project also included a border for the main arena with a facing shell of reinforced concrete and also extensions in both of the smaller north and south halls.
The existing roof of the entrance hall was extended over the foyer and square and prepared with a striking 130 m long front of face concrete. The roof structure consists of spanned lamella-like wall panels up to 28 m wide arranged every 5 m. They function as story-high ribs. Together with the longitudinal beams, they are framed on the underside with a face concrete ceiling and on the upper side with a covering of insulating wooden sandwich elements. Both ceilings act statically as horizontal panels. The ribs and the transverse longitudinal beams are strongly prestressed. A crucial point was the cable routing, that should follow the torque path in its logic. Particular attention had to be paid to the exact position of the tension cables at the crossover points.
The roof is supported by the box office, the wall panels of the new goods elevator, the walls of the newly created emergency escape and traffic route from the arena (truck exit) and a hinged support. Displacements due to shrinkage and temperature are absorbed by the hinged support, which supports a maximum of 2,000 tons. It consists of a 420 mm solid steel tube and is jacketed with a concrete skin. At the cornerstone ceremony, a 20 ton boulder was integrated as an object of art at the foot of the support. This striking sculptural formed support is consolidated with a cross-shaped girder grid of welded plate girders. The cross transfers the support load around the existing collector duct to four large bored piles. These have an impressive diameter of 1.3 m and penetrate 15 m deep into the subsoil to transfer the forces.



PUBLICATIONS
"Neu eingebettet" in Tec21 - 04-10-2018 (in German)
© espazium.ch
St. Jakobshalle, Basel, Sanierung und Modernisierung – Die interdisziplinäre Zusammenarbeit von Architekt und Ingenieur
Direction: Severin Kuhn
Length: 07:57 Min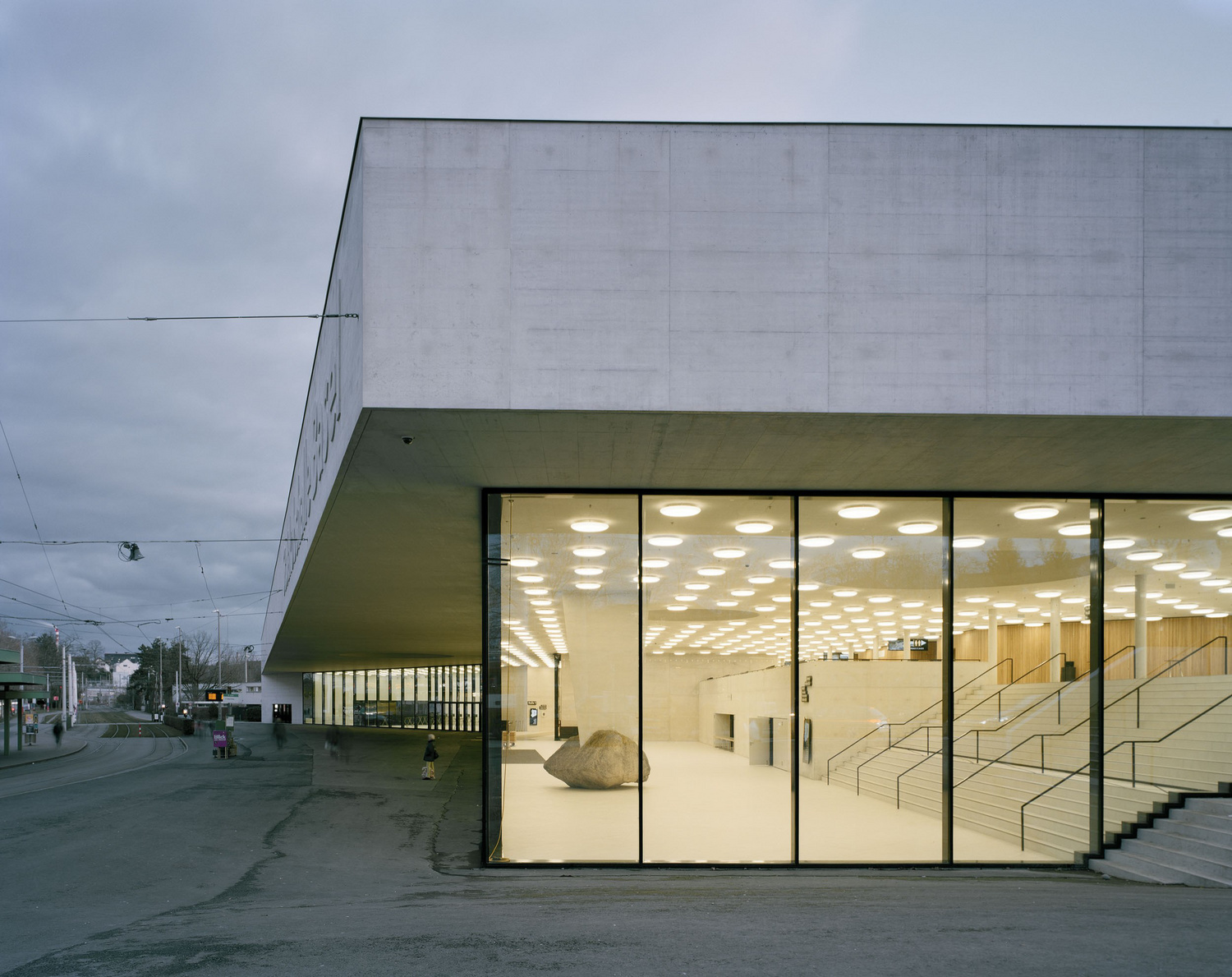 Barbara Bühler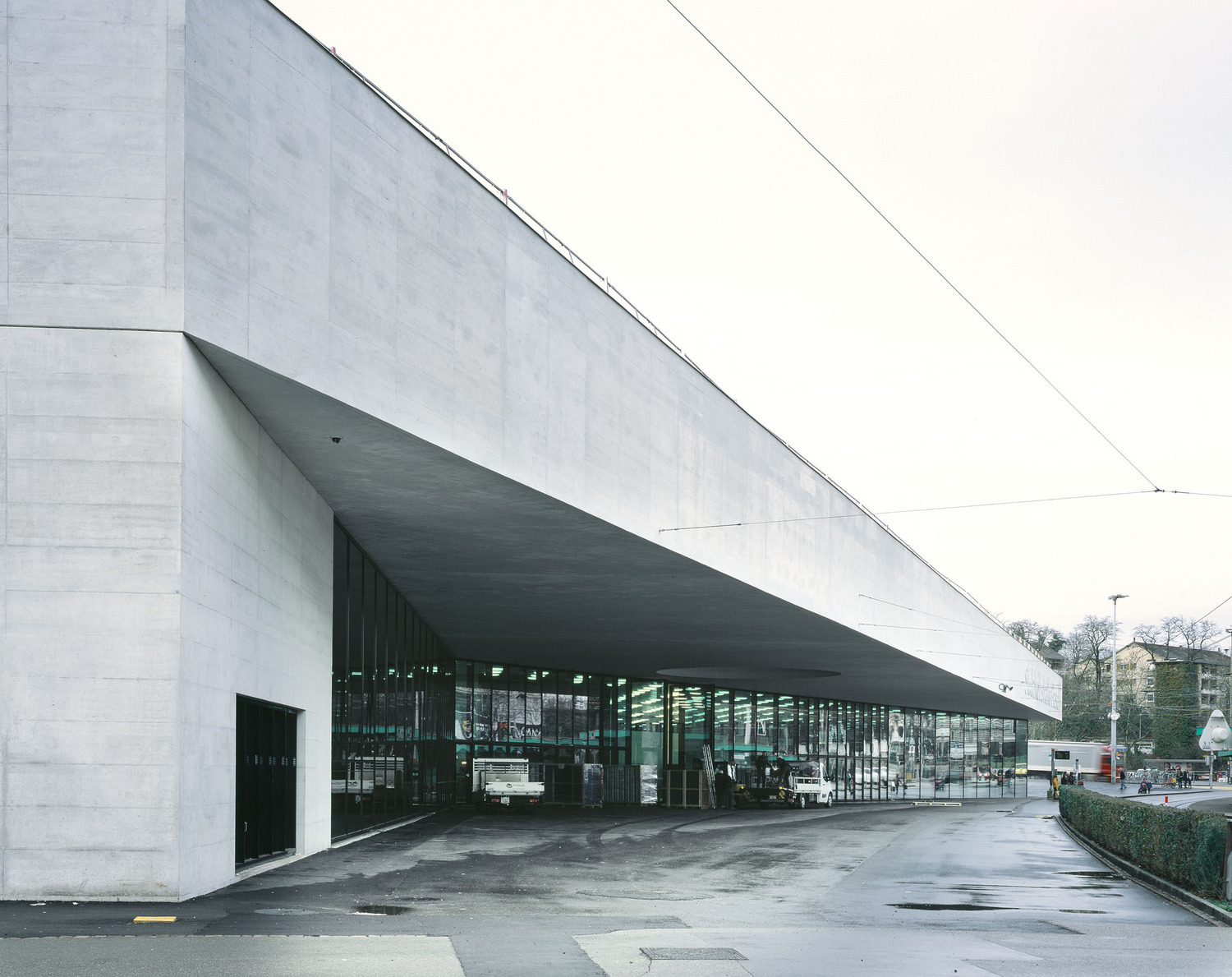 Barbara Bühler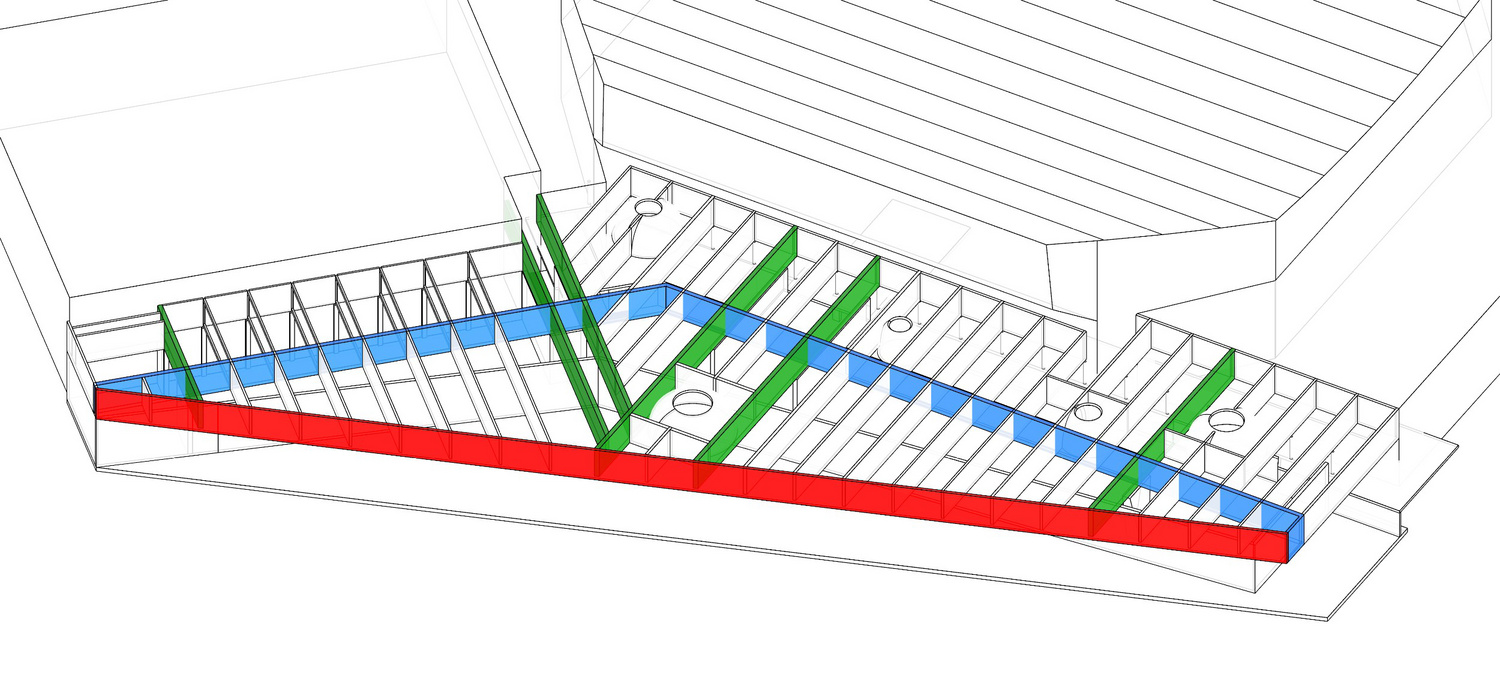 Haupttragelemente des Foyer Nord: Randträger (rot), Auflagerträger (grün) und Innenträger (blau) Schnetzer Puskas Ingenieure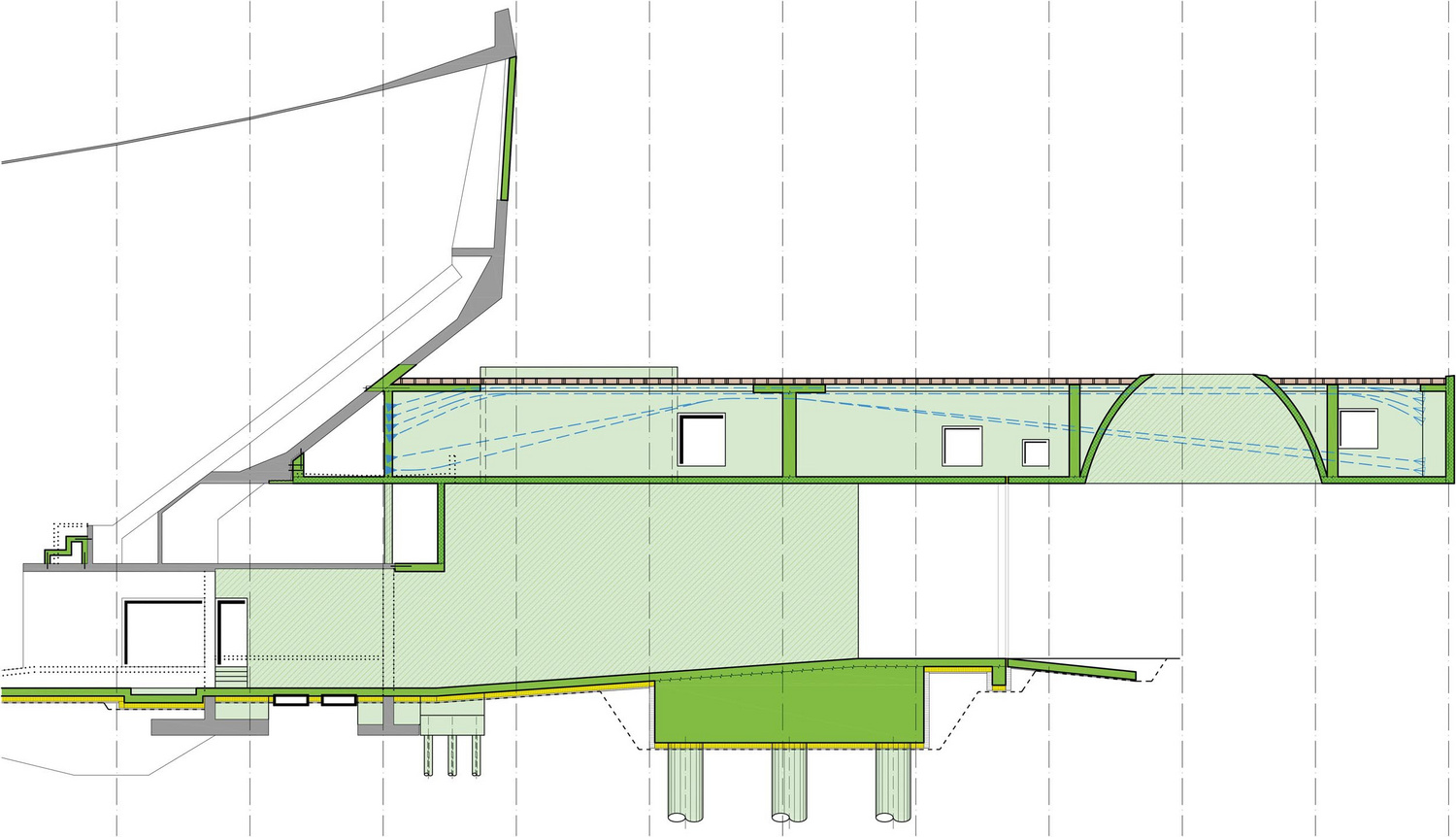 Schnitt eines Auflagerträgers Schnetzer Puskas Ingenieure

Vorspannungsplan eines Auflagerträgers Schnetzer Puskas Ingenieure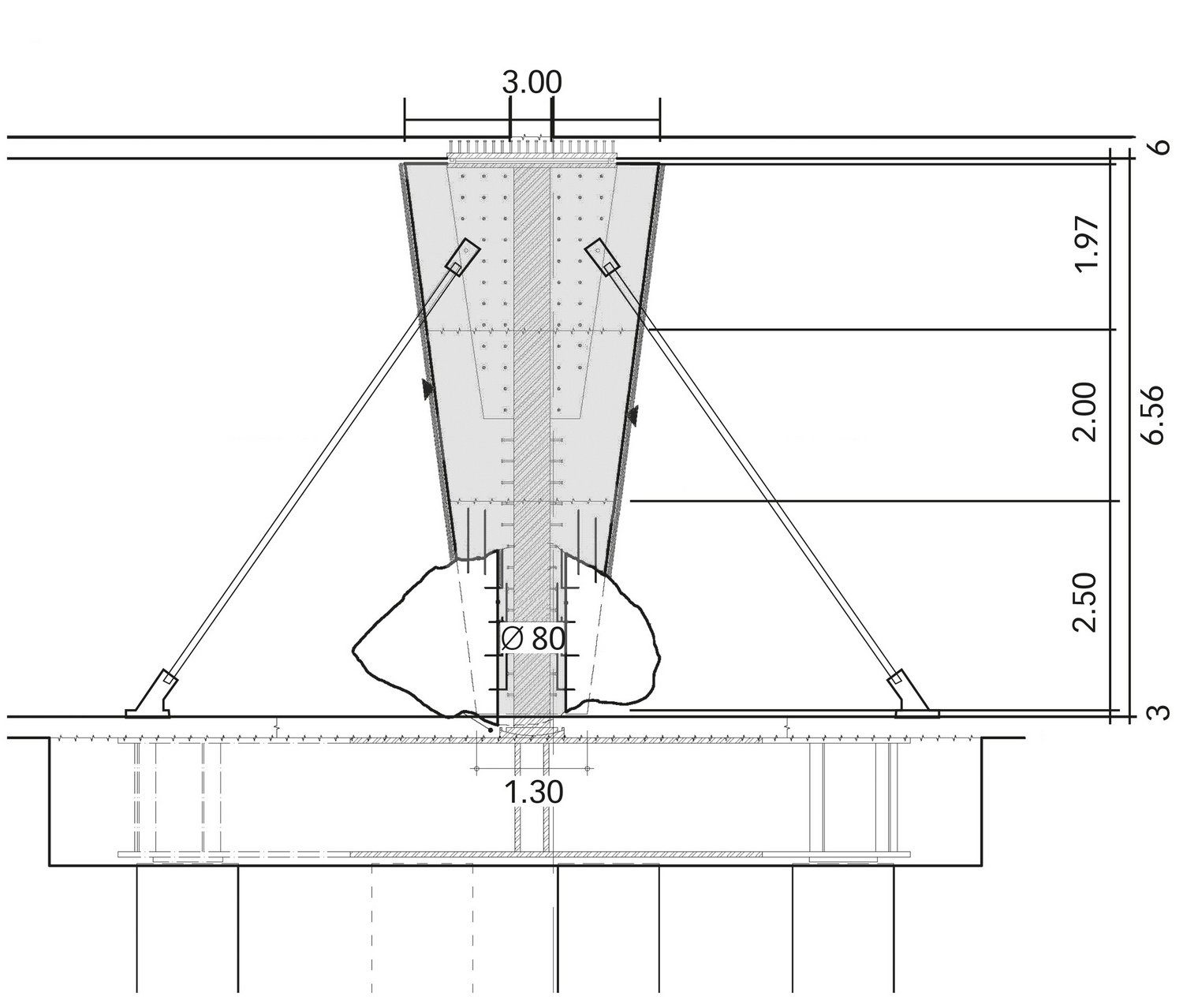 Schnitt der Pendelstütze Schnetzer Puskas Ingenieure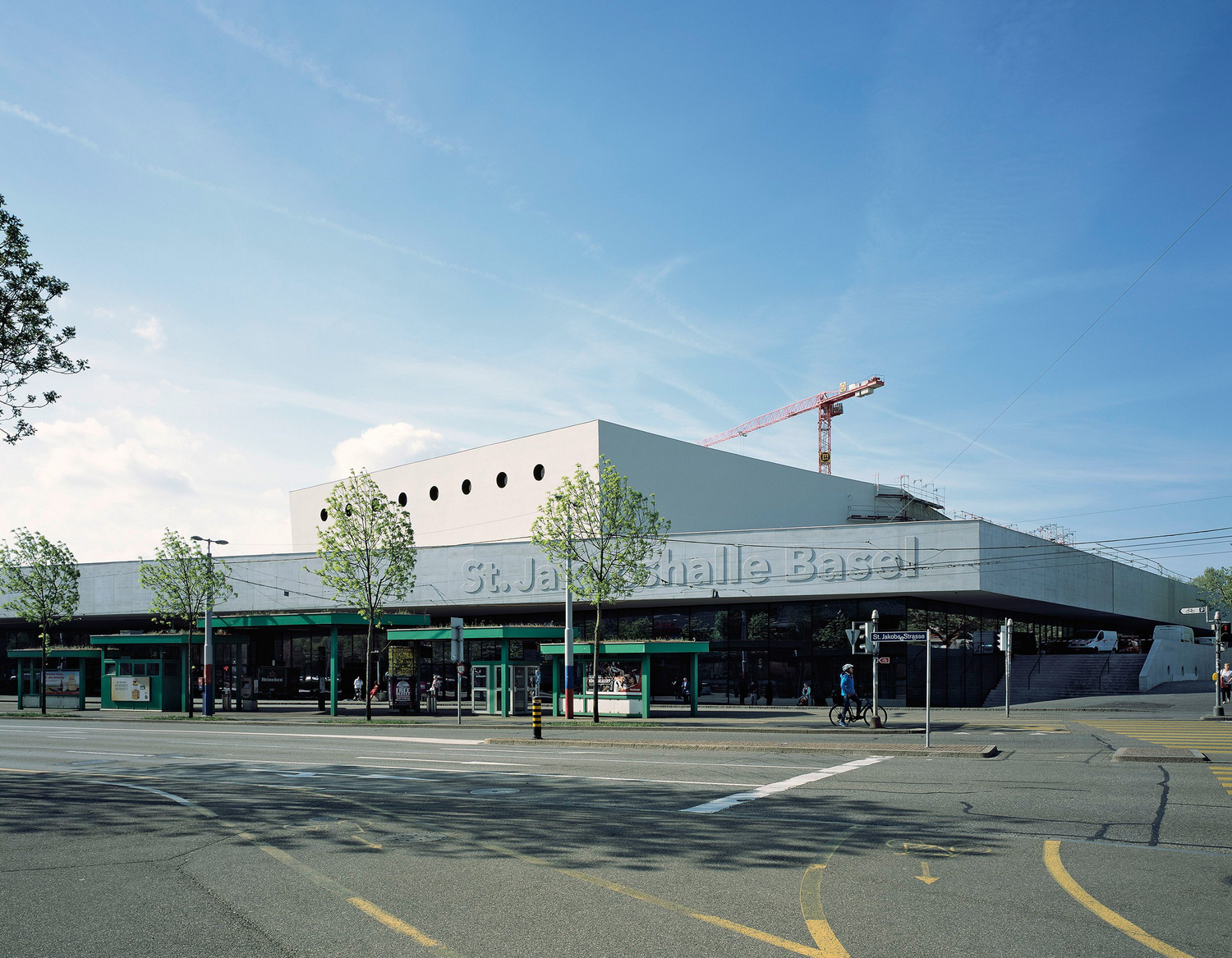 | | |
| --- | --- |
| Client | Bau- und Verkehrsdepartement Basel-Stadt |
| Architecture | ARGE Degelo Architekten / Berrel Berrel Kräutler Architekten |
| Planning | 2013-2015 |
| Realization | 2015-2018 |
| Status | Built |