| | |
| --- | --- |
| Client | IG Balintra AG, represented by UBS Fund Management (Switzerland) AG, SIMA |
| Architecture | BIG Bjarke Ingels Group Copenhagen Local Architect: Harry Gugger Studio, Basel |
| Total Contractor | Halter AG Gesamtleistungen |
| Planning | 2011-2014 |
| Realization | 2014-2016 |
| Status | Built |
The Dreispitz area encompasses around 50 hectares and forms the hinge between the town of Basel and Münchenstein. The former area of commercial enterprises and warehouses today unites businesses, services and retailers, culture, leisure and living. The transit warehouse of 1922 was converted by Bjarke Ingels Group (BIG) with the Harry Gugger Studio and extended with a zigzag protruding three-storey addition.
The conversion potential of the existing support structure had already been investigated in the feasibility study by Schnetzer Puskas Ingenieure. On the one hand, it was recognized that the flexible but soft skeleton construction was not stiff enough against the effect of earthquakes and thus an additional reinforced concrete core had to be housed in the existing support gird of 9.1 by 7.5 m. On the other hand, the supports were designed for high loads, so that a load-neutral addition of up to three stories could be approved. The solid ceilings could also be permitted to have large openings. The conversion included new office and living areas in the upper floors as well as restaurants in the ground floor and utility rooms in the basements.
The floor plan of the existing building had the form of a very long rectangle with trapezoidal fringes. The new floor plan area of the additional stories was divided into five large surfaces, which in turn were each twisted by 45 degrees to the initial position. This measure meant that a multilateral illumination for all apartments could be created. The two surfaces at the head ends of the building were extended outwards, so that projections of up to 11 m resulted. The support grid of the existing building was adopted for the additional stories. To a large extent, the support structure was designed as a solid construction. Five cores made of cast-in-place concrete, prefabricated reinforced concrete supports and reinforced concrete flat ceilings constitute the main load-bearing element. The surrounding balconies were of light construction (clad steel construction) and to a large extent prefabricated.
The large projections arranged at the head ends are a special static feature. With the aid of a 3-story framework construction on the ends of the building, the loads due to the projections were "hung back", in order to achieve additional building tension. In the areas of the projections, the ceilings were constructed of reinforced concrete composites to minimize the loads.



PUBLICATIONS
Transitlager in Arketipo 126-2019
© Arketipo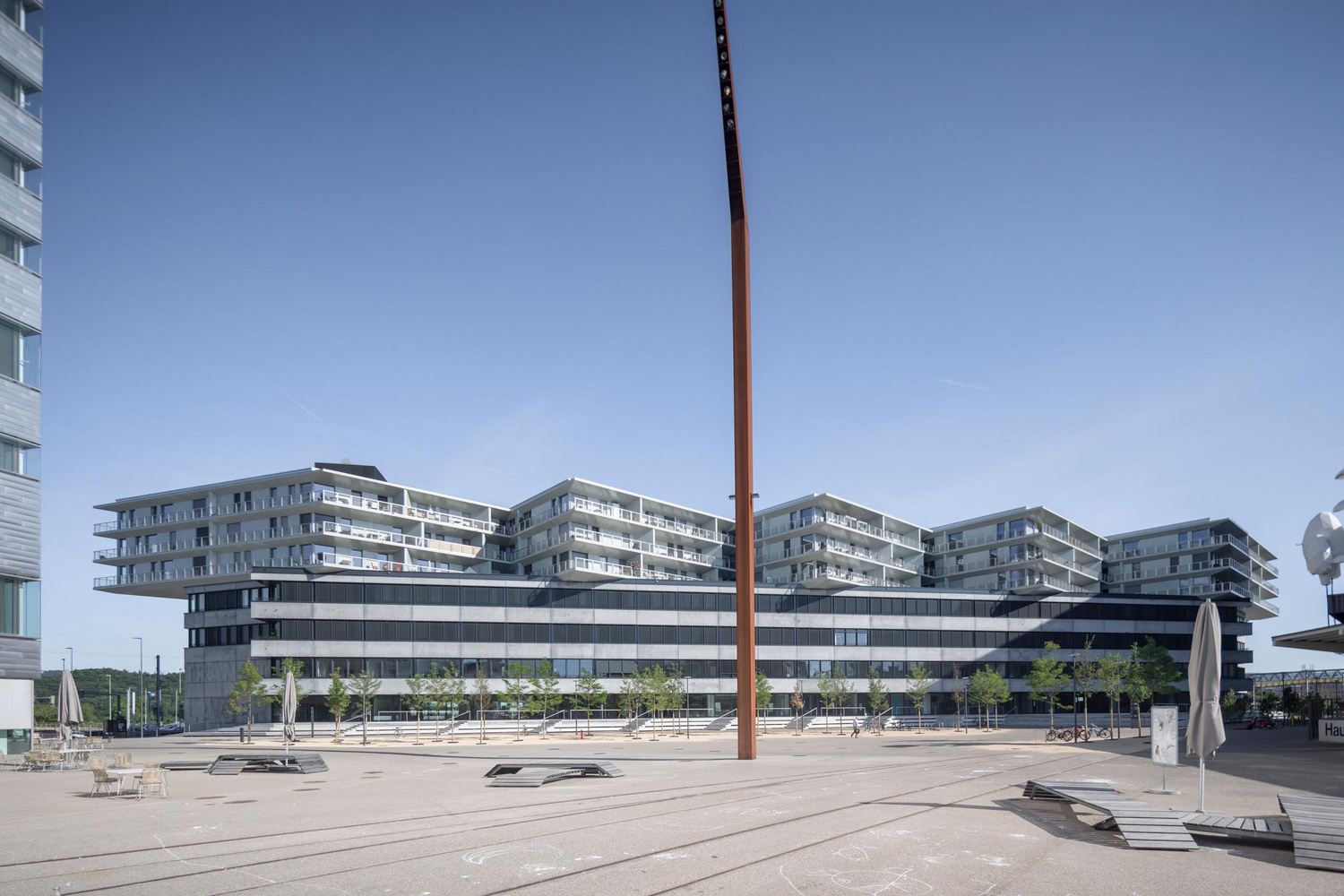 Laurian Ghinitoiu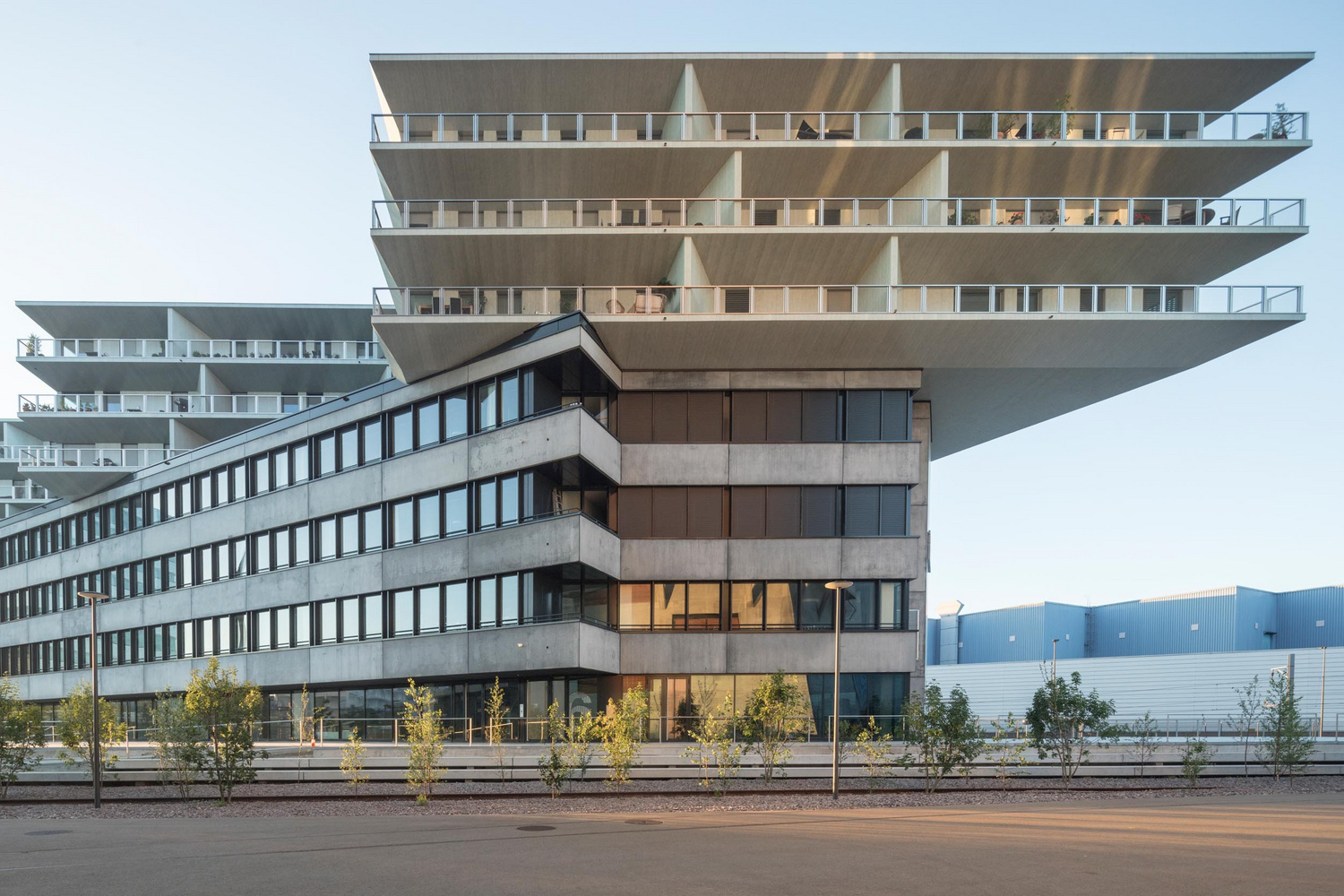 Laurian Ghinitoiu
Längsschnitt durch die umgebaute Transithalle BIG - Bjarke Ingels Group

Grundriss der Aufstockung (4. bis 6. Geschoss) BIG - Bjarke Ingels Group

Grundriss im Bestand (2. OG) mit Deckenausbrüchen (blau), Deckenverschlüssen (grün) und neuen Kernwänden und Stützen (rot), Mst. 1:1000 Schnetzer Puskas Ingenieure

Vorspannungsplan auskragende Spitze der Aufstockung (4.OG bis 6.OG) Schnetzer Puskas Ingenieure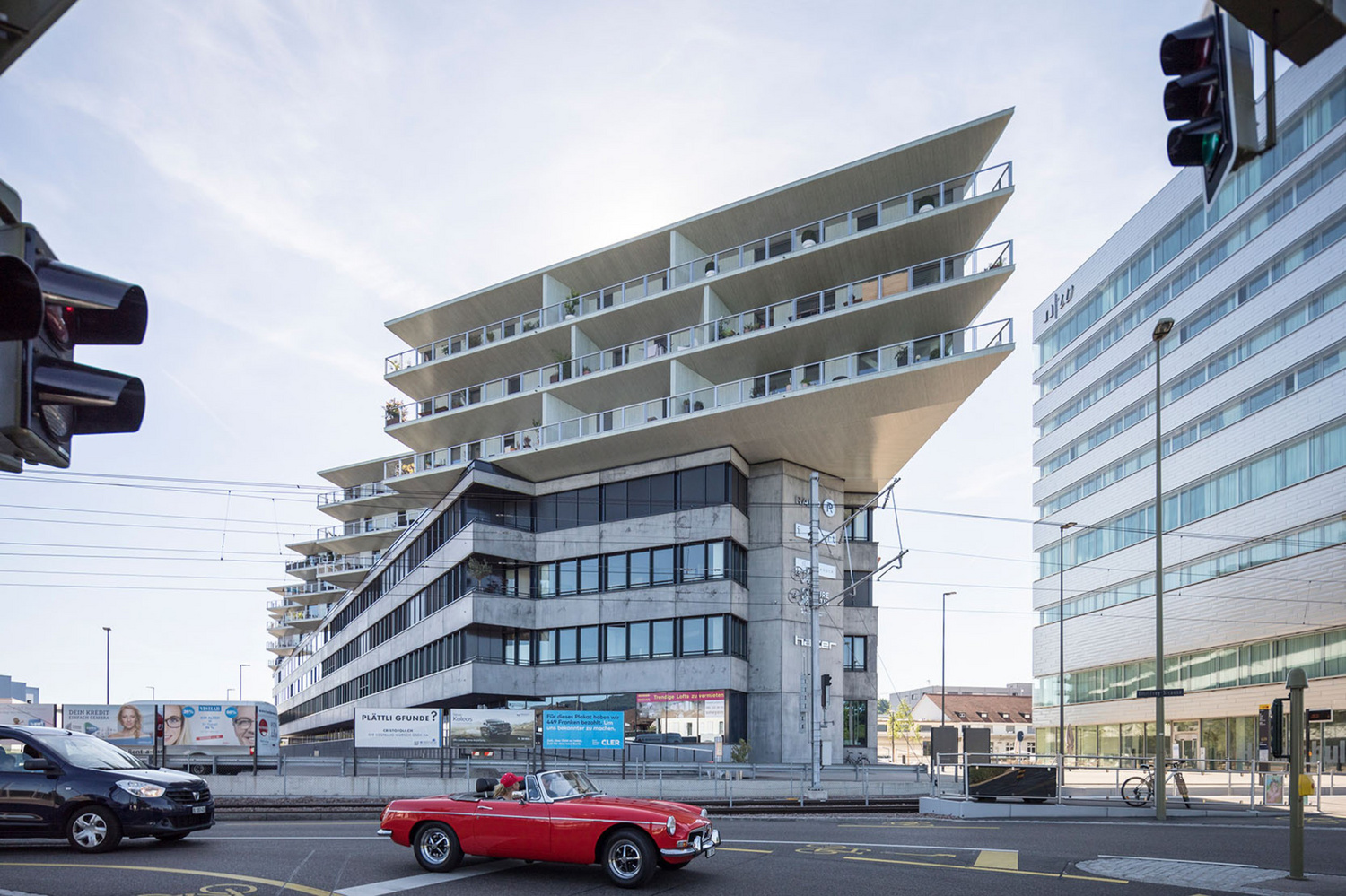 Laurian Ghinitoiu
| | |
| --- | --- |
| Client | IG Balintra AG, represented by UBS Fund Management (Switzerland) AG, SIMA |
| Architecture | BIG Bjarke Ingels Group Copenhagen Local Architect: Harry Gugger Studio, Basel |
| Total Contractor | Halter AG Gesamtleistungen |
| Planning | 2011-2014 |
| Realization | 2014-2016 |
| Status | Built |