| | |
| --- | --- |
| Client | taz - Die Tageszeitung |
| Architecture | e2a Piet Eckert and Wim Eckert |
| Structural Engineering | Schnetzer Puskas International / GuD Planungsgesellschaft für Ingenieurbau mbH |
| Planning | 2014-2016 |
| Realization | 2016-2018 |
| Status | Built |
The architectural design of the new taz house is reminiscent of the Moscow "Schabolowka" radio tower by Wladimir G. Schuchow in the early 1920s, whose structure, designed as a mesh, attained maximum load-bearing capacity with as little material as possible. The radio tower stands as a symbol of a supporting system, in which all elements have to contribute equally and only achieve stability together. It is a system without any hierarchy. The architectural impression of the new house for taz is a symbol for both structure and organization at the same time.
The new building essentially comprises two basements, a ground floor and six generally identical upper floors. The sixth floor is characterized by an extra high building section that does not impair the principle load flow. The same is true for the two-storey room volume on the ground floor and the first floor. The layout of the building can be divided into three parts: A southern part, which will be separated from the future neighboring building by a continuous fire wall, a northern part, and an intermediate middle part, in which the main access staircase is located.
The circumferentially arranged supports were delivered to the building site as prefabricated reinforced concrete pillars, whereas the interior vertical loosely reinforced load-bearing elements were constructed using cast-in-place concrete. Since all floor loads are collected in a concentrated manner along the facade levels as well as on the two house utility access shafts, a deep foundation with bored piles was made for the building. The transfer of the vertical floor loads to the foundation follows the same principle in the repeated standard floors. The ceiling system of the three building parts can be viewed as three stable tabletops. Prefabricated girders were placed on the extensive prestressed reinforced concrete edge beams and grouted with the aid of cast-in-place concrete layer to produce a monolith. The girders are 50 cm high and 2.10 m wide and span 12.50 m unsupported. In order to counteract any deformation, the ribs were already prestressed in the prefabrication factory. The prefabrication of the supports and the joists lead to complex connecting node points.
What is particularly ingenious in the support system is that the vertical load-absorbing elements also guarantee the horizontal reinforcement of the building. As a rule, vertical and horizontal reinforcement of a building are two separate systems which are – more or less coherently – complementary. Often when these two systems are coupled, limitations arise for the user of the rooms. For programmatical and conceptual reasons, this is not the case in the taz new building. Two otherwise separate systems are combined in a single one in an elegant way that offers the user free space and identity.



PUBLICATIONS
"Das Dreieck als Tragstruktur" in Deutsche Bauzeitschrift, 10/2019

"taz Publishing House in Berlin" in structure published by DETAIL, Issue 2/2019

"Struktur - Raum - Identität" from the taz special issue, October 2018 (in German)
with kind permission of taz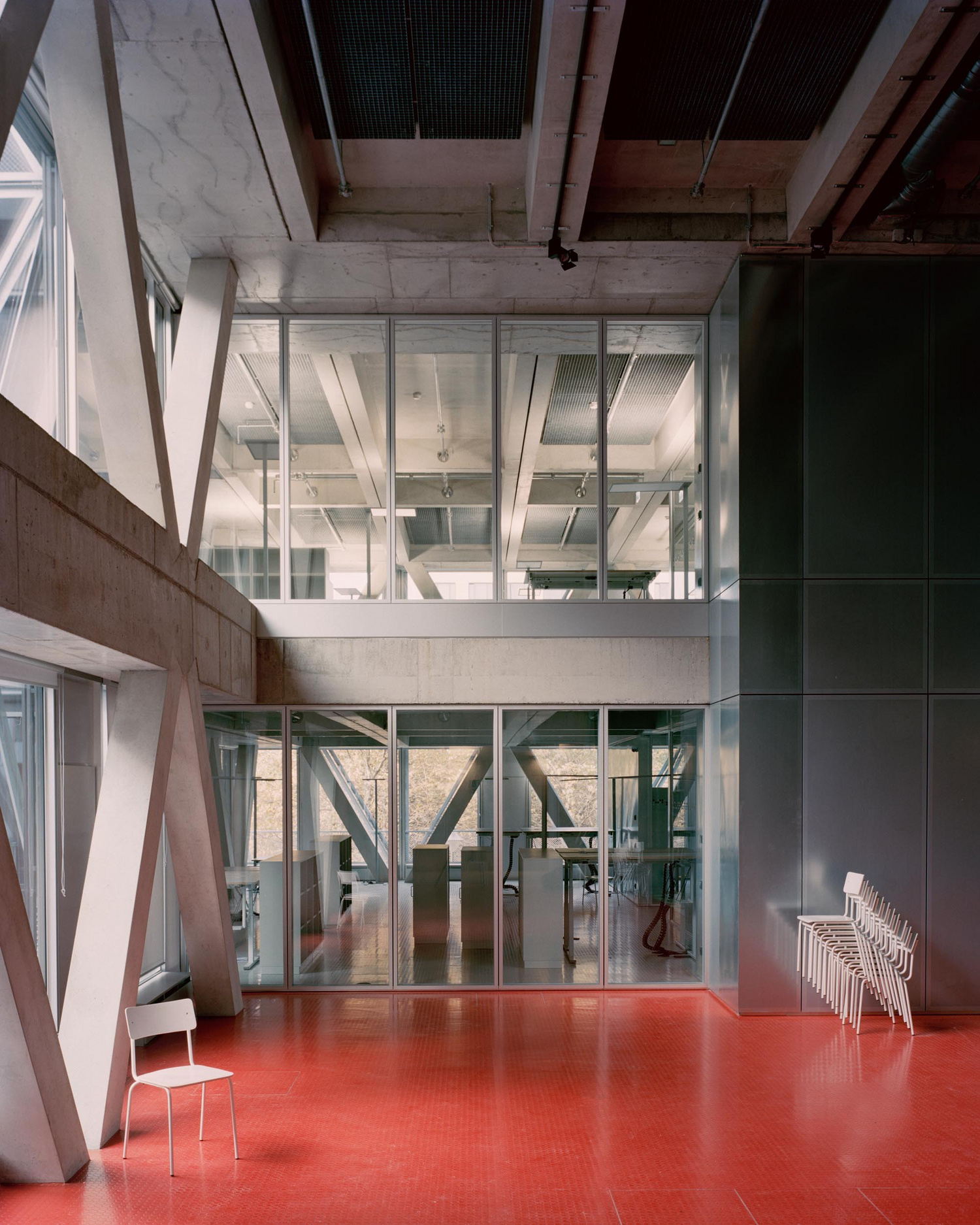 Redaktions -und Konferenzraum Rory Gardiner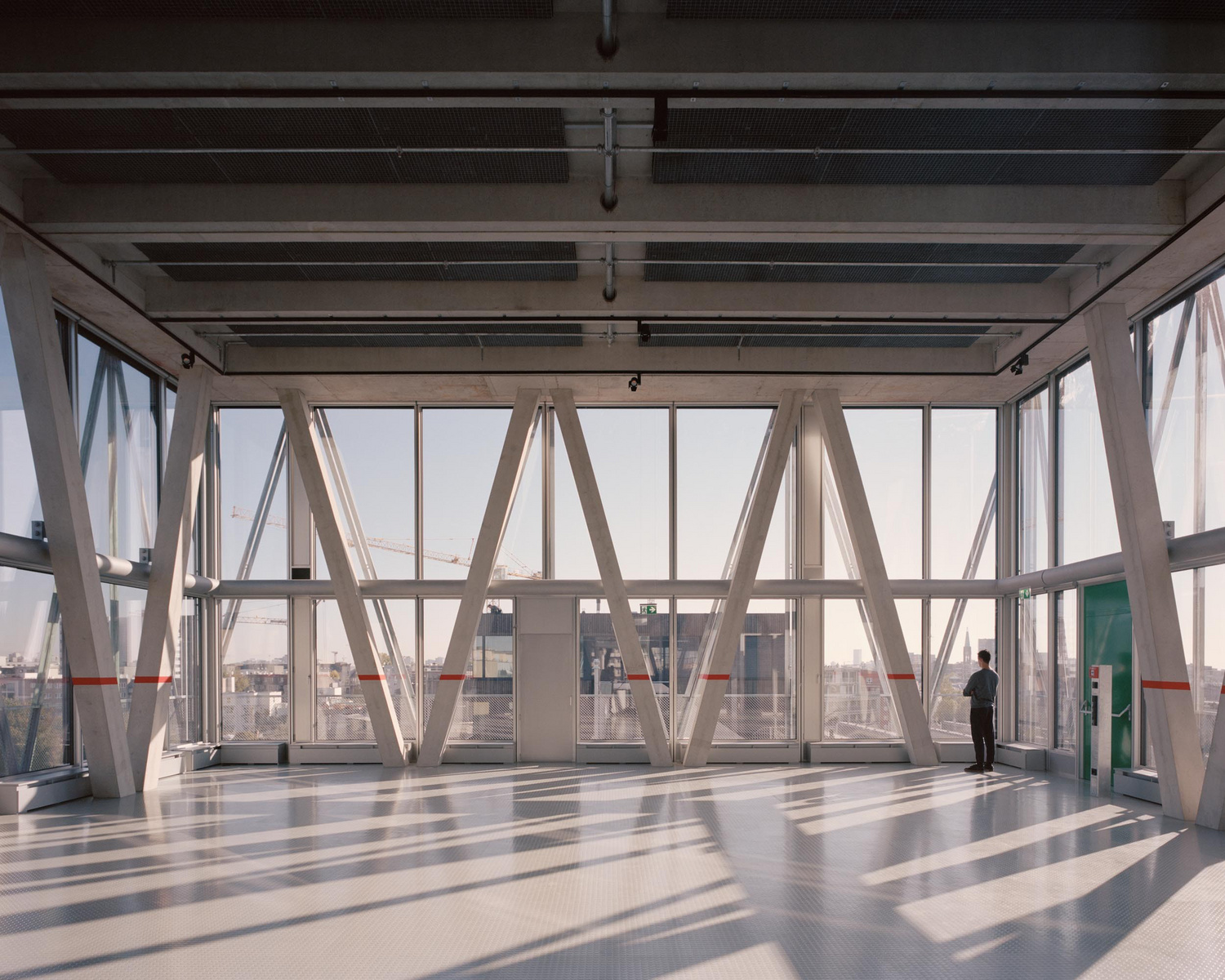 Blick vom taz.Panorama Rory Gardiner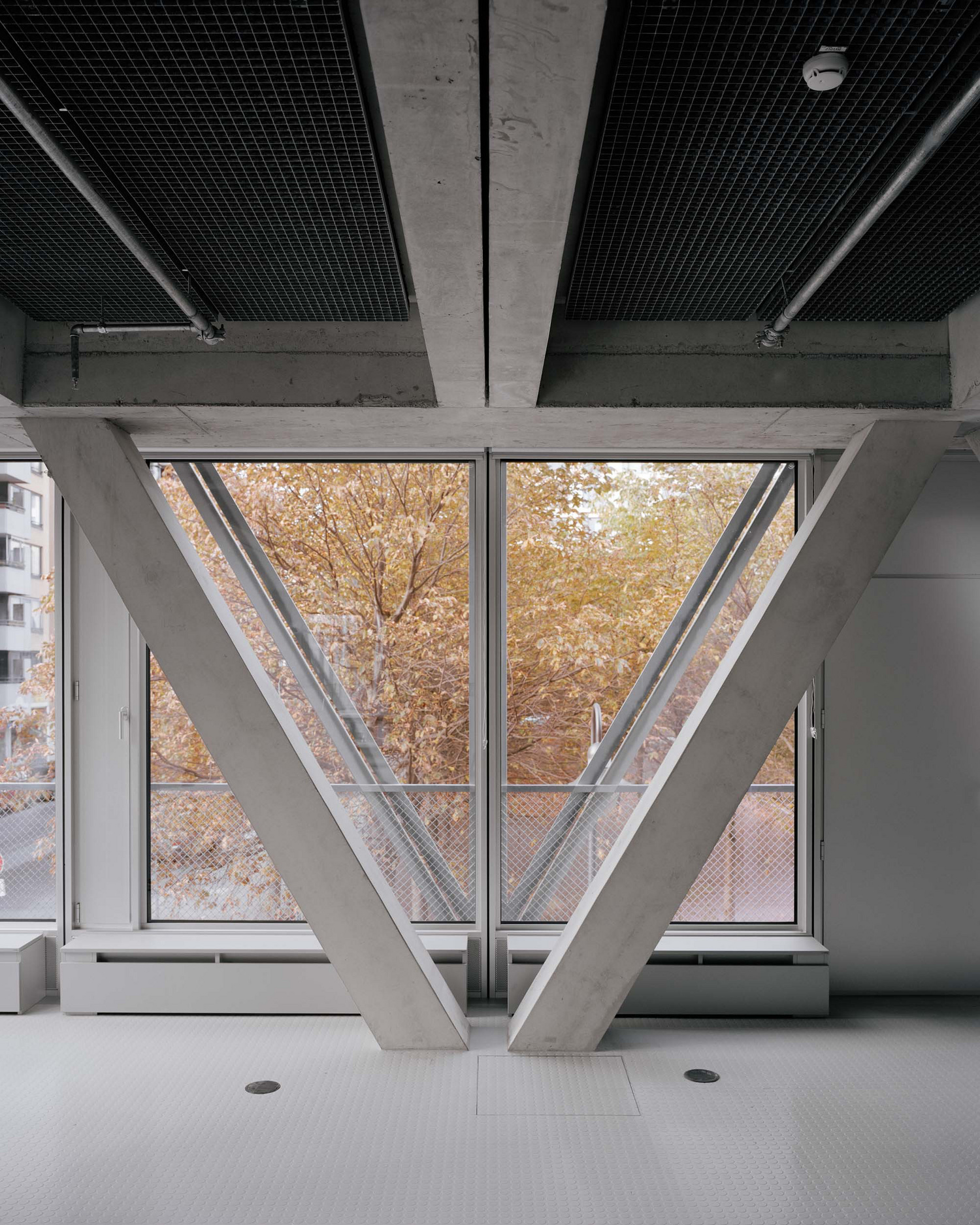 2. OG, Grossraumbüro, Blick zum Besselpark Rasmus Norlanden

Visualisierung der wesentlichen Teile der Tragstruktur: Nur Erschliessungskerne und Wände (links); inklusive vorgespannte Rippendecken (Mitte); inklusive vorgespannte Randträger und diagonale Stützen (rechts). Schnetzer Puskas Ingenieure

Links: Normalkräfte infolge Lastabtrag der vertikalen Stockwerkslasten Rechts: Normalkräfte aufgrund horizontaler Beanspruchung (Wind) Schnetzer Puskas Ingenieure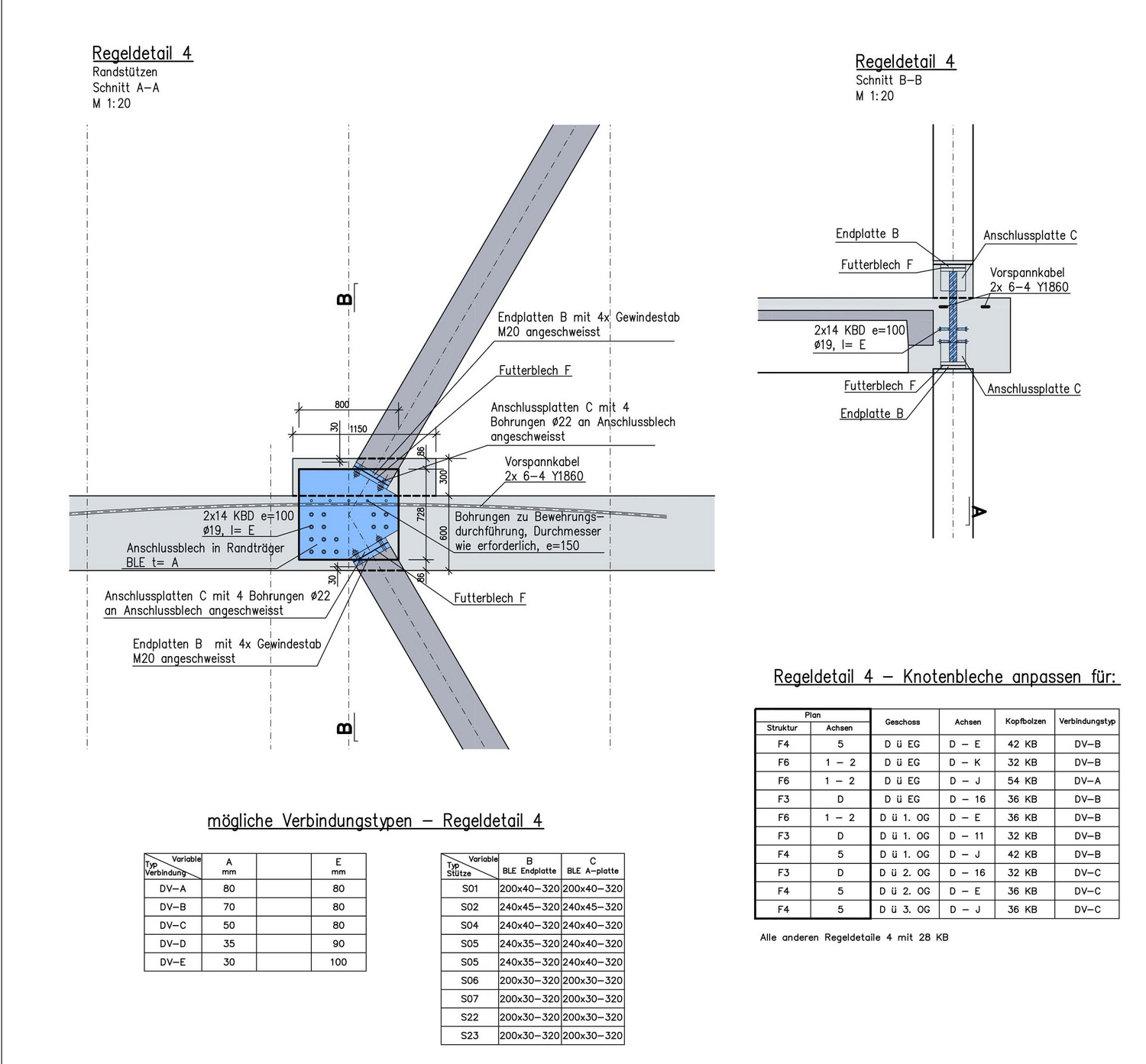 Decken-/Bodenanschluss zweier Stützen Schnetzer Puskas Ingenieure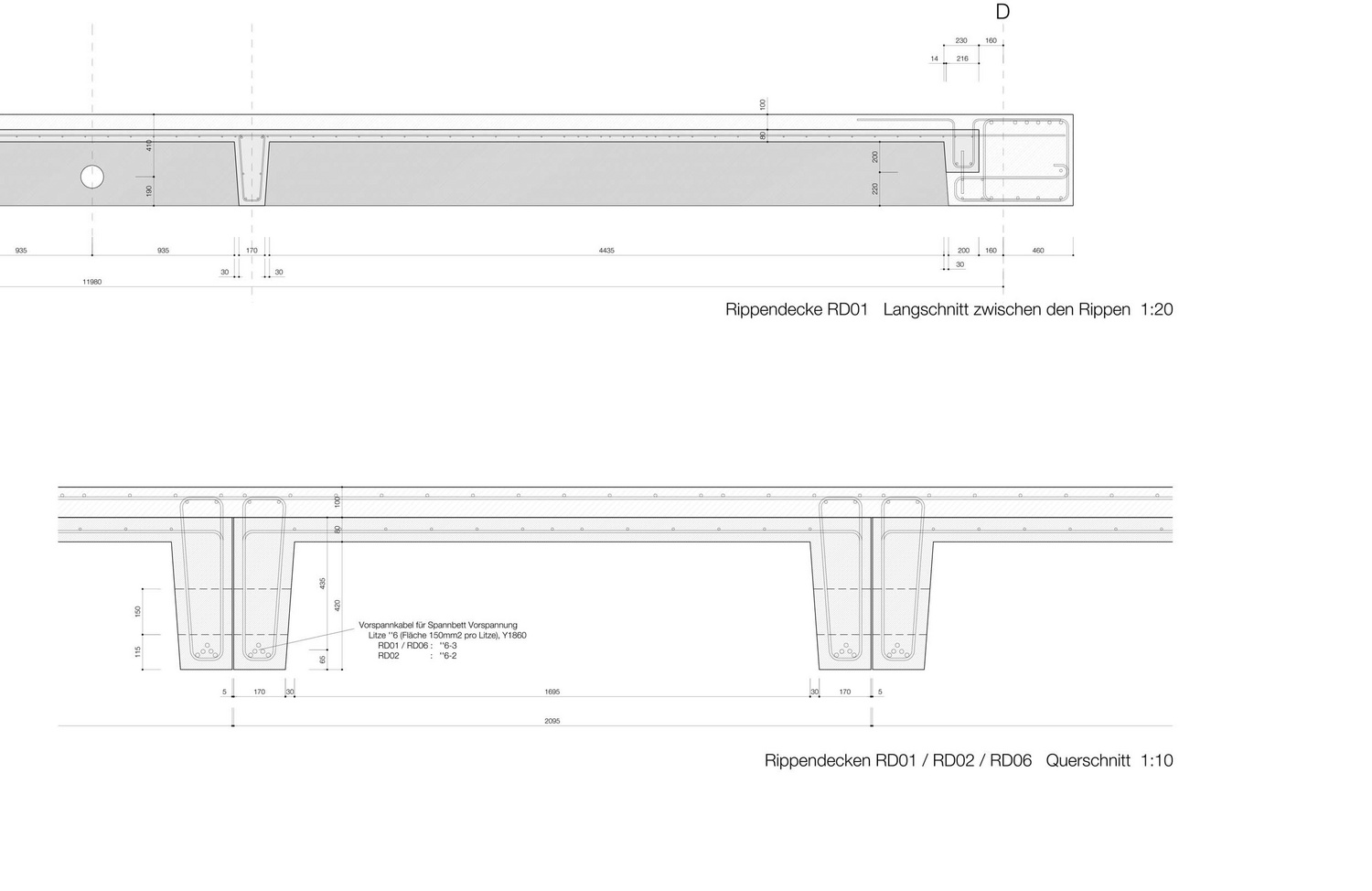 Querschnitte durch den Decken-Randbereich und durch ein vorfabriziertes Decken-Rippenelement Schnetzer Puskas Ingenieure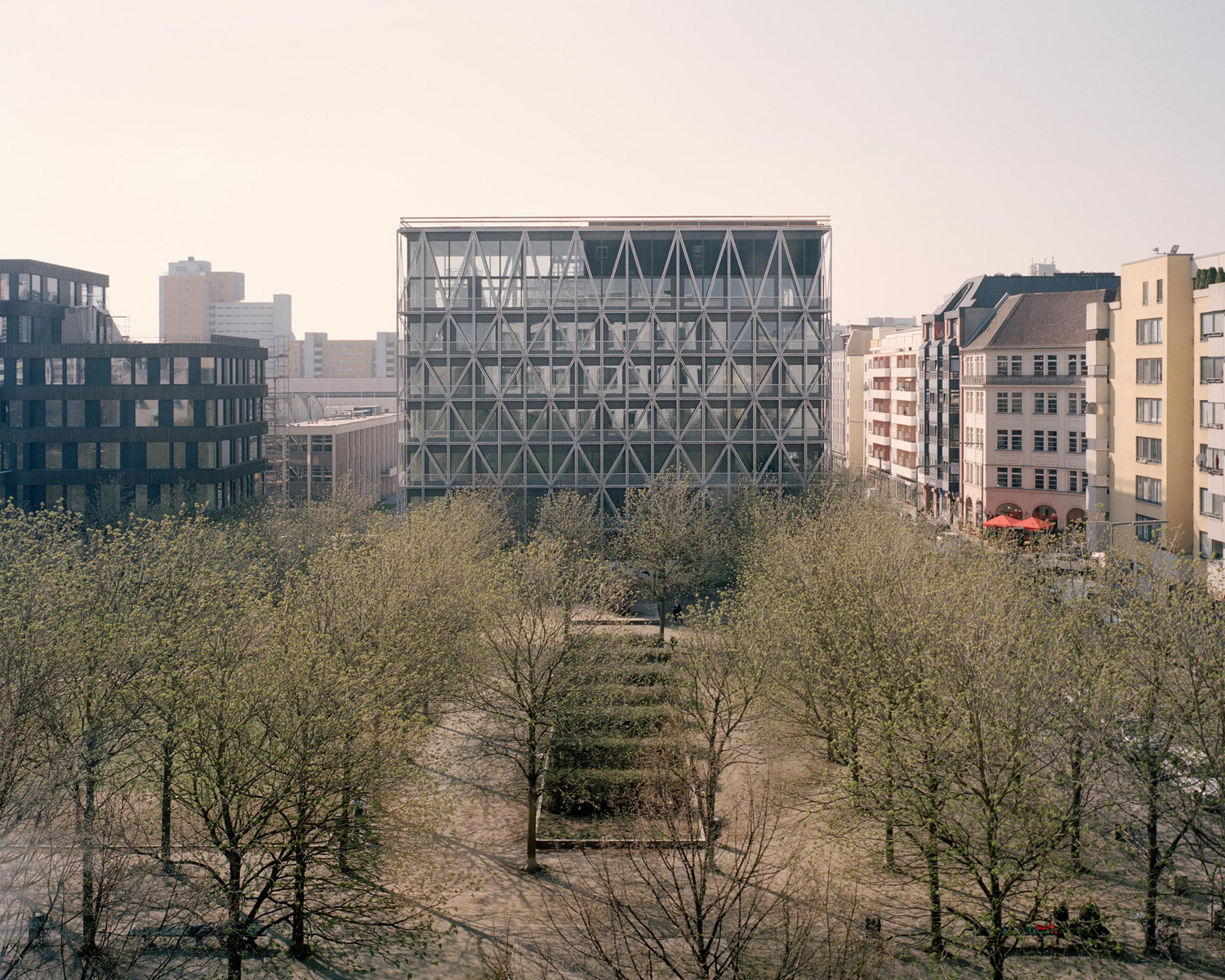 Rory Gardiner
| | |
| --- | --- |
| Client | taz - Die Tageszeitung |
| Architecture | e2a Piet Eckert and Wim Eckert |
| Structural Engineering | Schnetzer Puskas International / GuD Planungsgesellschaft für Ingenieurbau mbH |
| Planning | 2014-2016 |
| Realization | 2016-2018 |
| Status | Built |